Elegant wine boxes – New Year & Christmas collection.
Lasercut vector models / project plans with engraving ready for laser cutting.
Set of 5 designs in one pack.
Material thickness:
3,2 mm (1/8 inch)
4 mm (5/32 inch)
5 mm (13/64 inch)
6,35 mm (1/4 inch)
Dimensions internal: 320x80x80 mm (12,6×3,15×3,15 inch)
Dimensions external: 430x106x87 mm (16,9×4,15×3,35 inch)
Digital product includes AI, PDF, CDR, DXF, SVG files.
No physical item will be sent.
Instant Download.
Made with soul by cartonus.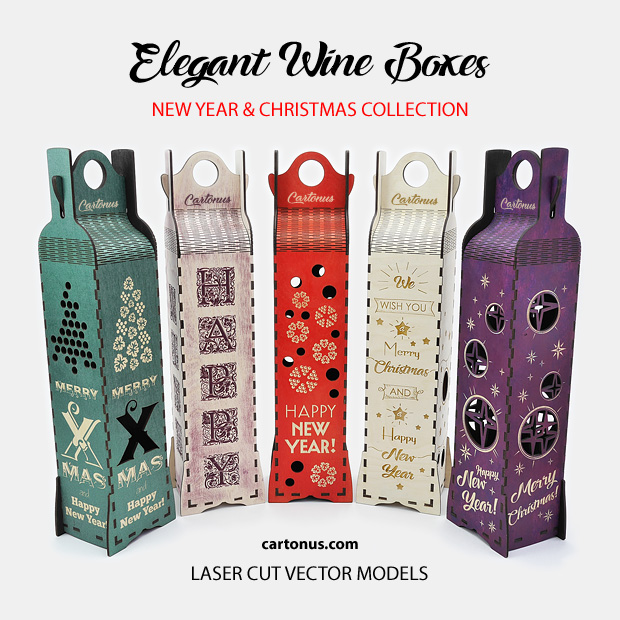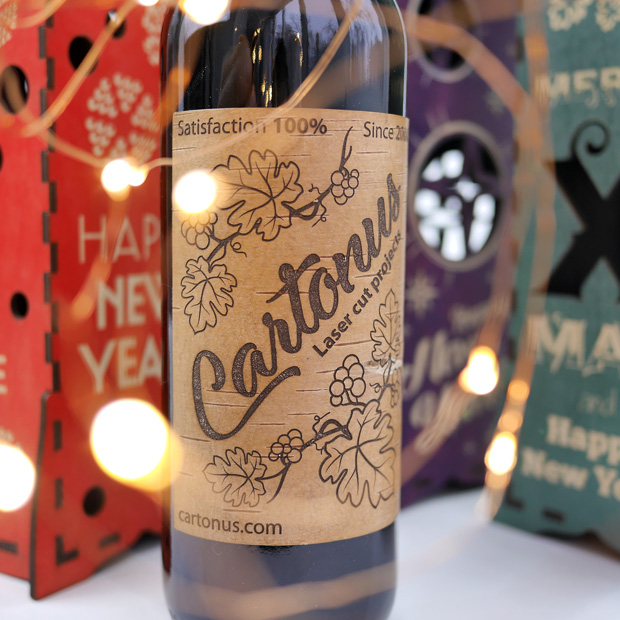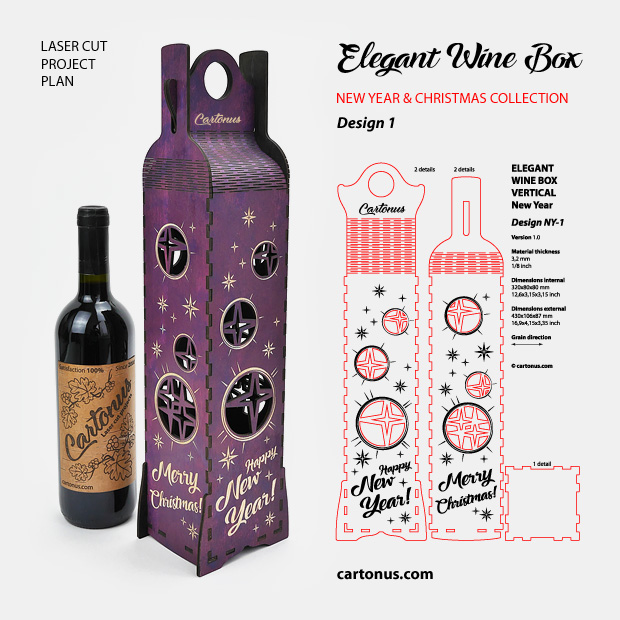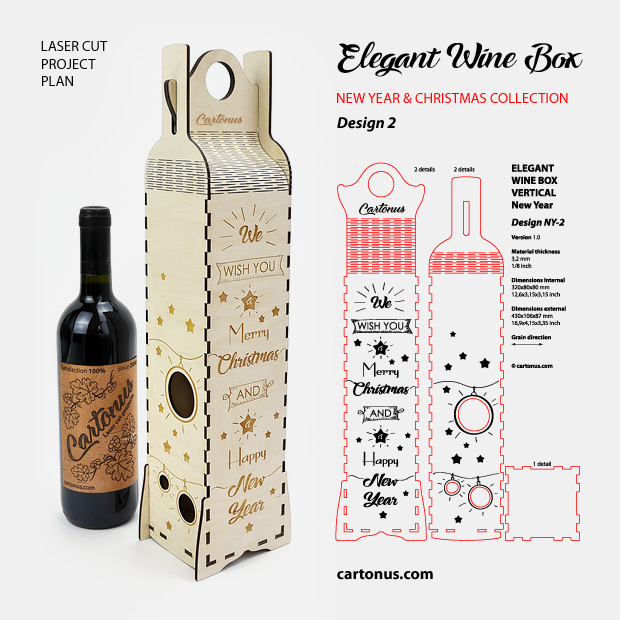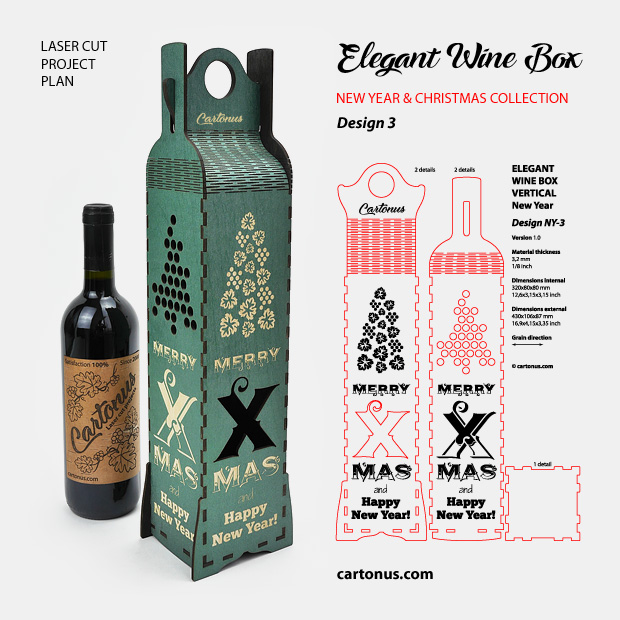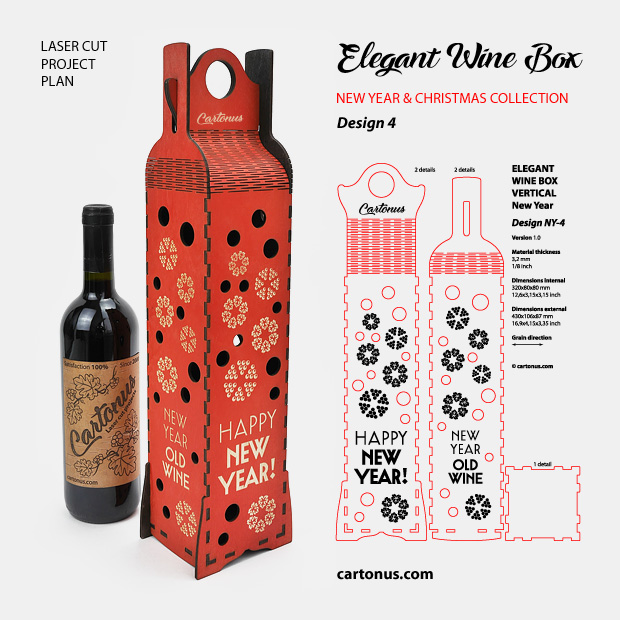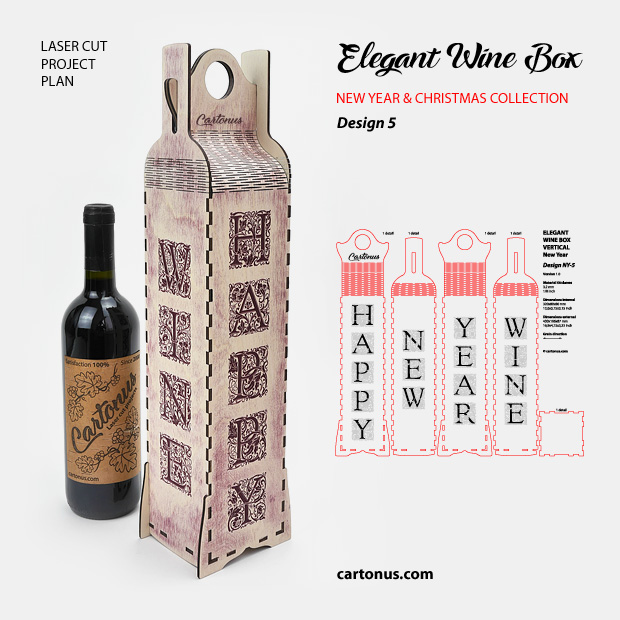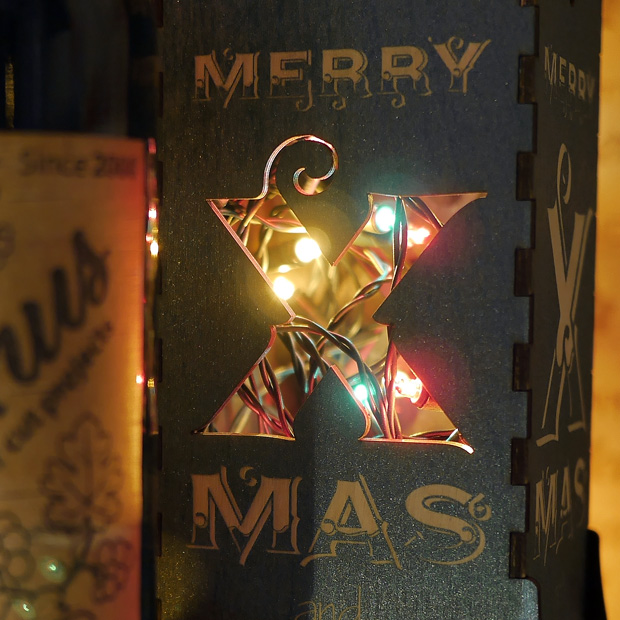 VIDEO
Introducing our Elegant wine boxes – the perfect addition to your New Year and Christmas celebrations! Upgrade your gifting game with our stunning collection of wine boxes, designed specifically for those special holiday occasions.
Each box comes with a meticulously crafted design that showcases the holiday spirit. Our project plans include intricate engravings, ready to be brought to life through laser cutting. Made with high-quality materials, these wine boxes ensure a secure and stylish packaging solution for your precious bottles of wine.
The artistry of our engraving patterns adds an elegant touch to these boxes, creating a truly luxurious and unforgettable presentation. Whether you're gifting a bottle of wine or using it for your personal collection, our wine boxes will undoubtedly impress your recipients and elevate the overall experience.
Crafted from premium birch plywood, these wine boxes are not only visually appealing, but also durable and reliable. Their sturdy construction ensures that your wines are well-protected during transit or storage. The natural beauty of the birch wood adds a touch of sophistication to the overall aesthetic, making these boxes a statement piece on any holiday table or display.
Our project plans are designed with easy assembly in mind, allowing you to create your very own customized wine box effortlessly. Simply follow the step-by-step instructions and bring your vision to life with the help of a laser cutting machine. Whether you're an experienced DIY enthusiast or a beginner, our plans are tailored to suit your skill level.
Make this holiday season extra special with our Elegant wine boxes – New Year & Christmas collection. Impress your loved ones, friends, or clients with personalized wine packaging that exudes elegance and charm. Order now and get ready to create unforgettable memories with our beautifully designed wine boxes.